Hello Luscious!   This was my favorite Basic Grey collection from their CHA releases.  Love the colors, love the patterns, love the 6″ X 6″ paper pad because quoting the description on the pad, it is "…nothing but yum".  I would love to get some of these patterns as home decor fabrics!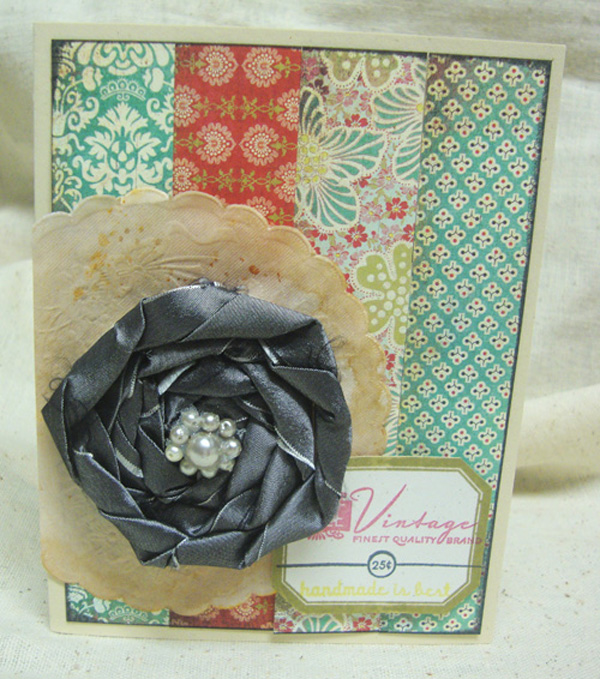 I definitely have a thing for flowers and today is no different.  I try to not cross paths of different manufacturers when I feature a certain brand, but it was a lost cause this go around!  I was trying to use things that I've had around my office for a while, and this paper pad worked perfectly with my odds and ends. 
For the first card, I used the make-and-take flower from the Cosmo Cricket booth (using a Gluber to make the flower).  There is so much luscious color that the grey taffeta fabric was the perfect neutral color accent.  Stamps from the Button Boutique and Labels collections from Papertrey Ink.  The doily is sprayed with Vanilla Breeze Glimmer Mist…one of those odds and ends lying around my workspace!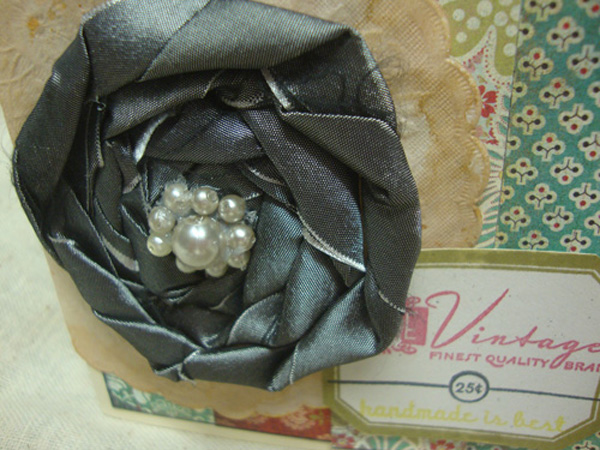 Next, I made a "Grandma" card…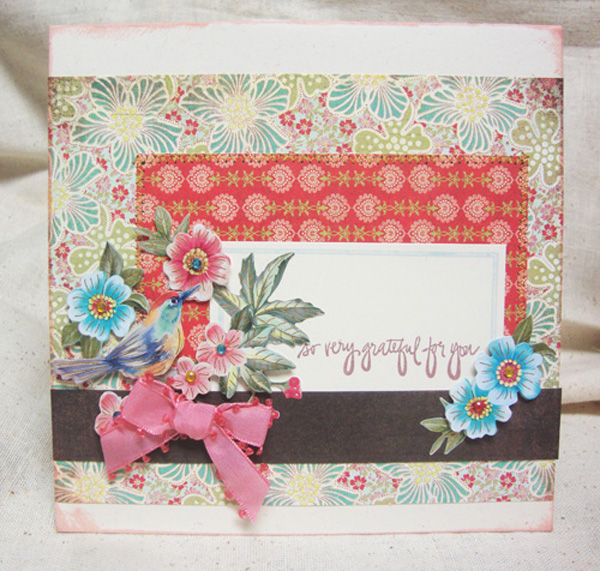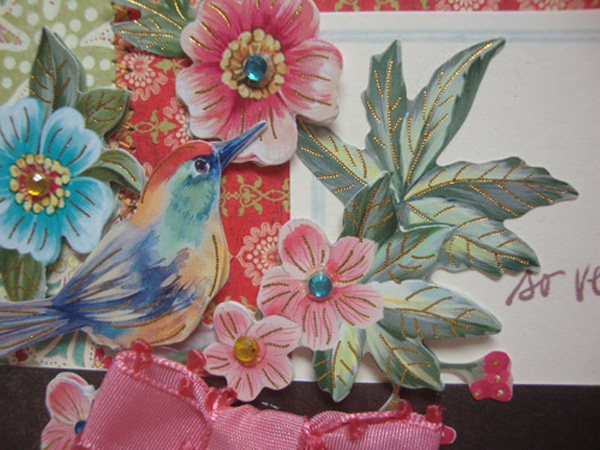 The dimensional flowers on the "So Very Grateful For You" card are from Forever in Time and are the perfect vintage touch for a card that would make any Grandma happy.  The stamp, like the paper, is also by Basic Grey.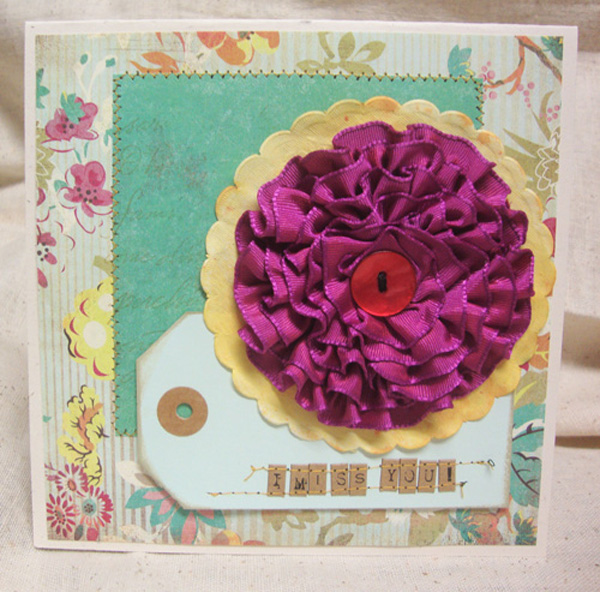 Pulling color from a small flower on the paper and making it a focal point by creating a life-size bloom is an easy job with a Gluber…I love Glubers!  I bought the tag years ago from Impress Rubber Stamps – it is fun to pull out product from the past!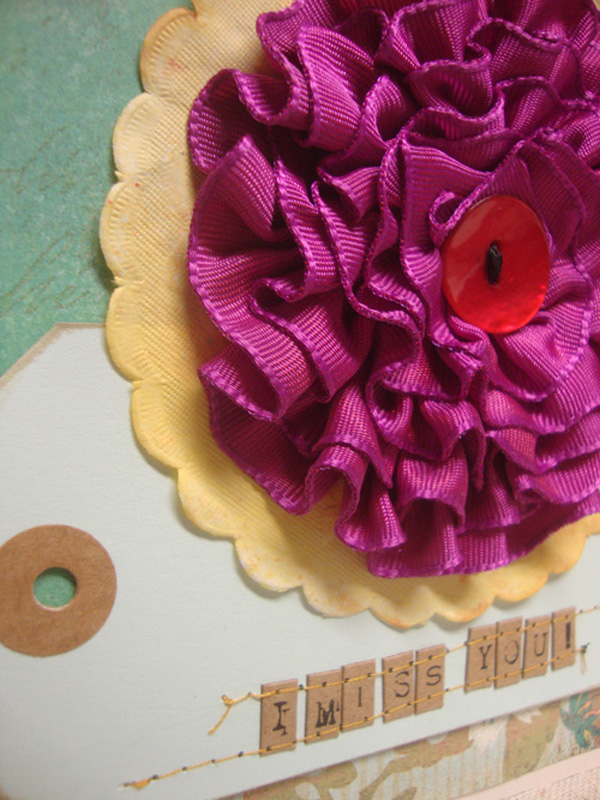 I also found these small doilies at a baking supply shop in Salt Lake City when I was there about a month ago.  The 4″ doily doesn't have any holes, but there is a floral/ribbon design embossed within the scalloped edges.  The white didn't work well with the cream background, so I added color with Glimmer Mist.  The alphabet stickers are by Jillibean Soup.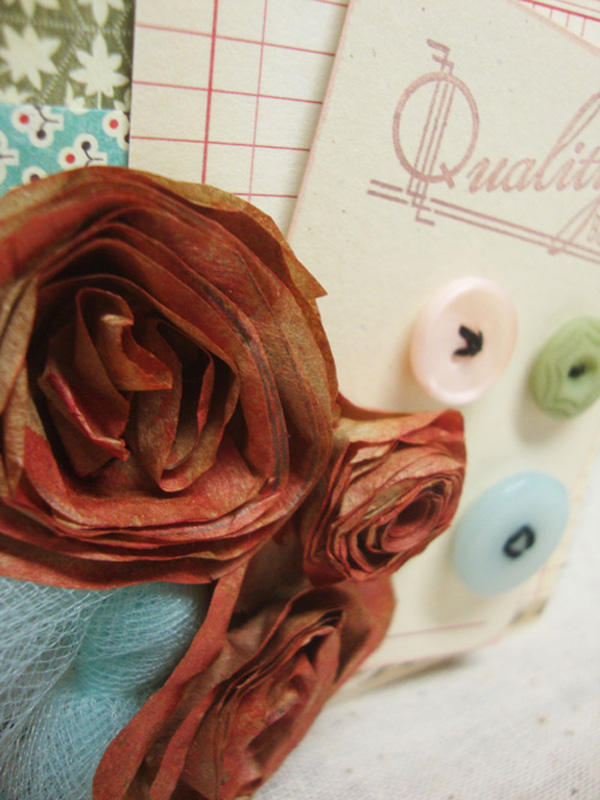 The last card (remember that I need to use at least one of the button cards I stamped weeks ago) is a mishmash of all sorts of odds and ends.  I used some old eyelet lace that I bought at a garage sale, a Jenni Bowlin card from the red Memo Note Book, some alphabet stickers from October Afternoon and flowers made from a brown paper sack, with a touch of Glimmer Mist.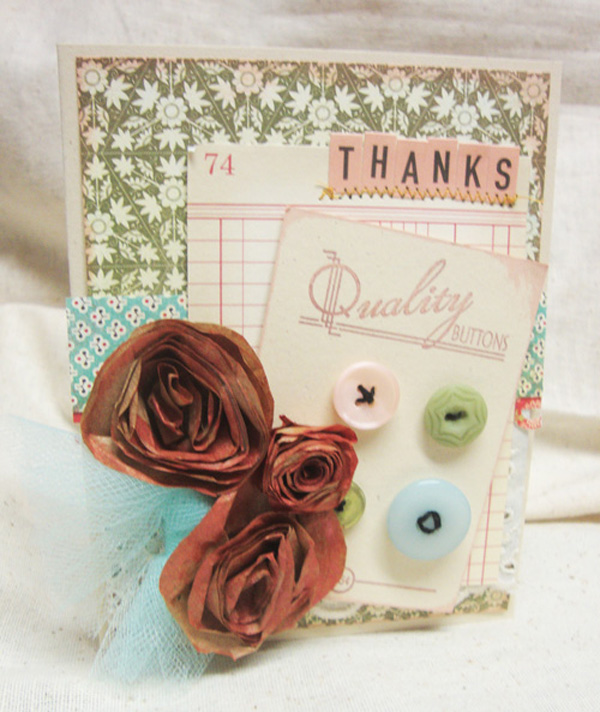 It seemed a little off balance, so I added some turquoise tulle.
Well, I keep trying to get this mini Monday posted before it becomes Tuesday and I'd better hurry!  I may need to change the name of this featured post to Mini Monday at Midnight.  I do love my mini paper pads!

Tags: Basic Grey Hello Luscious, buttons, cards, Doilies, Glubers, paper flowers, ribbon flowers