Blog hopping is fun.  If you aren't careful, it can boggle your brain and consume a lot of constructive work time.  If you do it in moderation, you are sure to find ideas that will inspire.  If you comment when they are having a giveaway, you can even come away with prizes.  A couple of weeks ago, one of those "random" winners was me:)  Hooray!  The stalking of the UPS and FedEx delivery guys began.
I have to say that Megan and I have been patiently (mostly) waiting for the new October Afternoon CHA releases – 5 & Dime and Rocket Man – to show up in our local scrapbook store…they have even promised to call when it arrives – yes, we are on that familiar terms with our scrapbook store ladies.  I can't remember when we have been so anxious for any new lines to come except for a Basic Grey release, Lime Rickey, some years back.  We happened to be in the store the day they were stocking the shelves and bought a ton of it because we loved it so much.  However, I had to ask Megan which line it was because "out of sight, out of mind" comes into play.  That's just the way my brain works these days! 
Maybe the waiting…and waiting…and waiting is part of the anticipation.  So winning this (on no merit of my own…random drawing, remember?) has made me a happy woman…in the way that temporal, worldly possessions can give one fleeting happiness.  Hard to imagine such loyalty to any one scrapbook line, but the title of a song from the 70's "Love the One You're With" (Steven Stills) comes to mind (subject material of the song unrelated, of course).  Let me say that my favorite scrapbook papers and embellishments are the ones that I have in front of me to work with, lest I offend any of my manufacturing friends out there who's products I adore!
Anyway, the box arrived on Tuesday of last week.  I was so excited that  I couldn't even wait to open the box until Megan got home.  My oldest, Jake, had just arrived in town for a visit – he thinks he has a silly Mom for being so excited over a pack of paper.  But I was a good girl and waited…and waited…and waited until yesterday, after a laundry list of things to do got done before I allowed myself to play.  Here's what was in the box…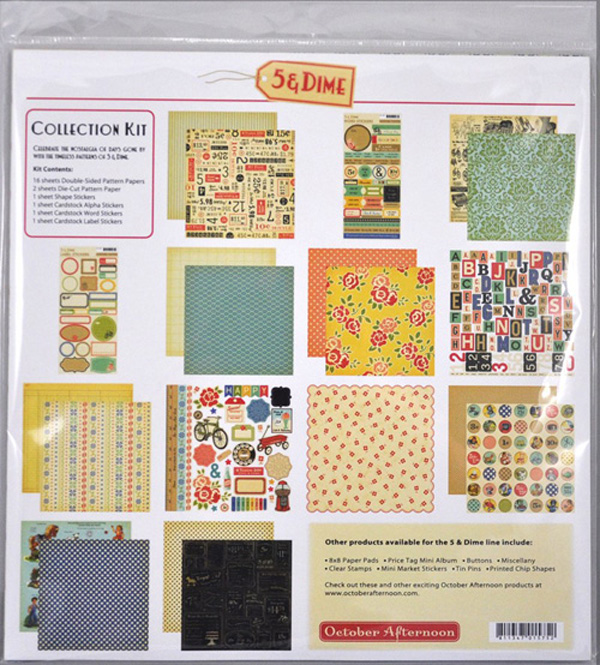 Isn't this fun?
Here's what I did…so far, of course.  I have to savor it and find just the right photos.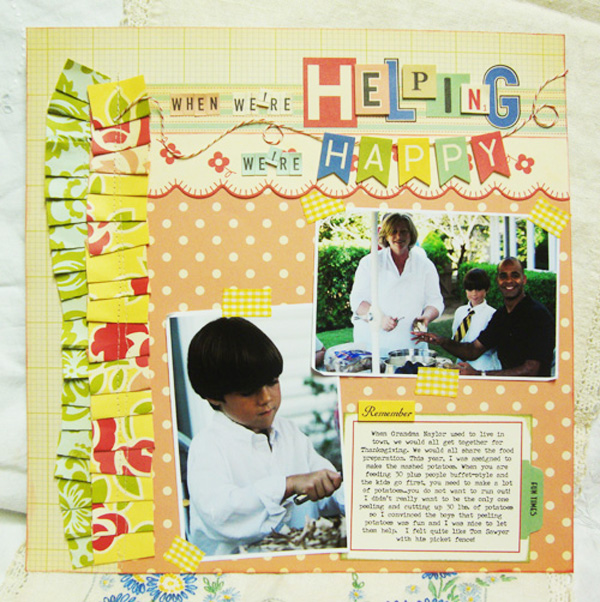 The title is from a Primary song.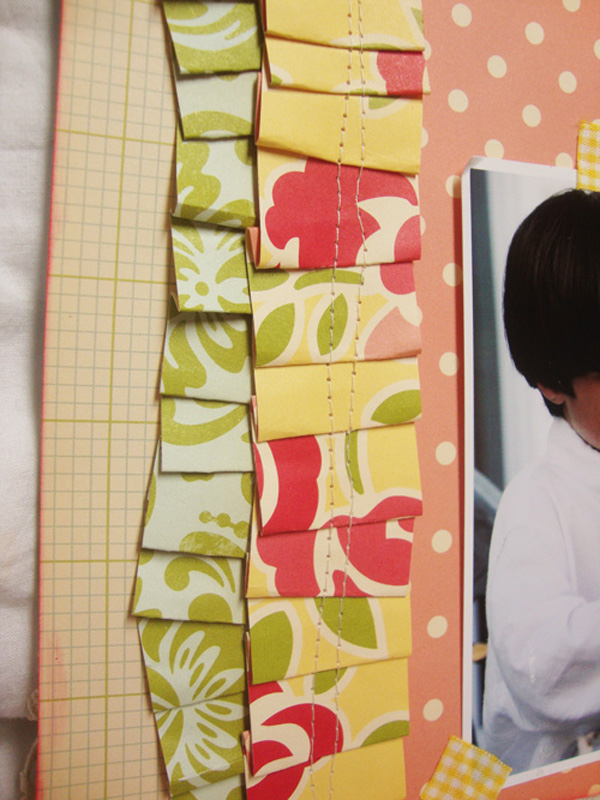 Going to October Afternoon's blog is a great way to get inspiration.  I have done this sort of paper pleating before, but I've never double layered until I saw this.  Yet another way to get more patterns on the layout!  Here is a close up of the journaling…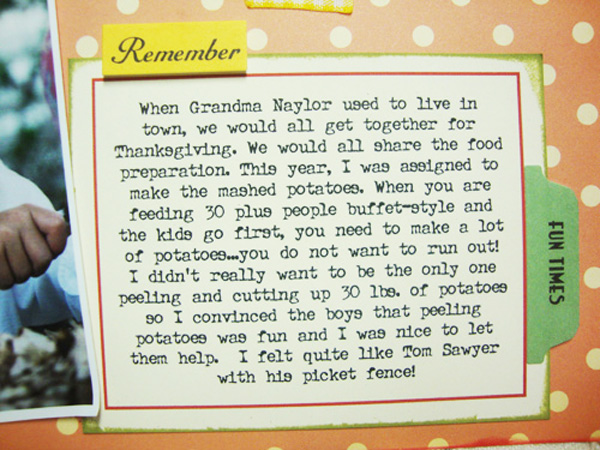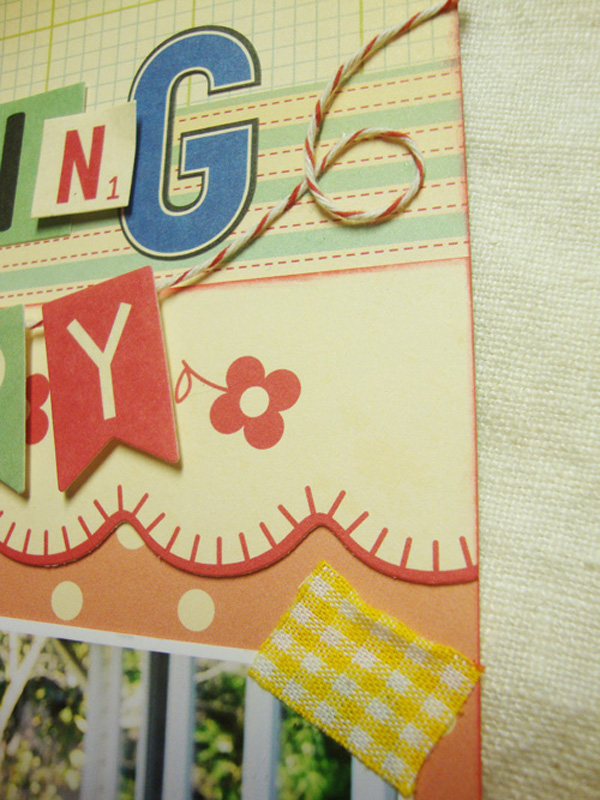 That roll of fabric tape from e2 Daily worked perfectly to attach the photos.
I can't resist making quick cards.
 
I used my Label Basics stamp from Papertrey Ink…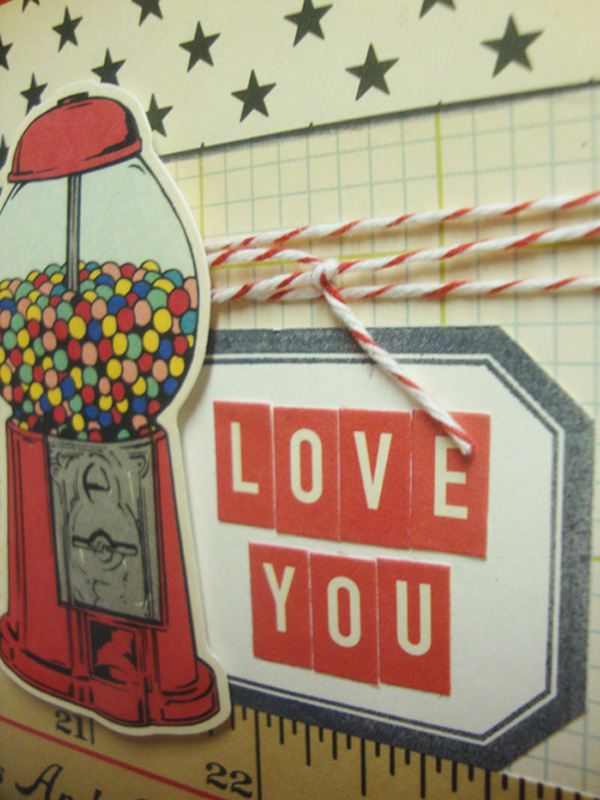 …and I am not quite ready to put away my new Papertrey Ink stamps yet!  I had stamped a bunch of cards from the Button Boutique set to have on hand when I wanted to use one on a card or layout, allowing me to make it line specific at the appropriate time.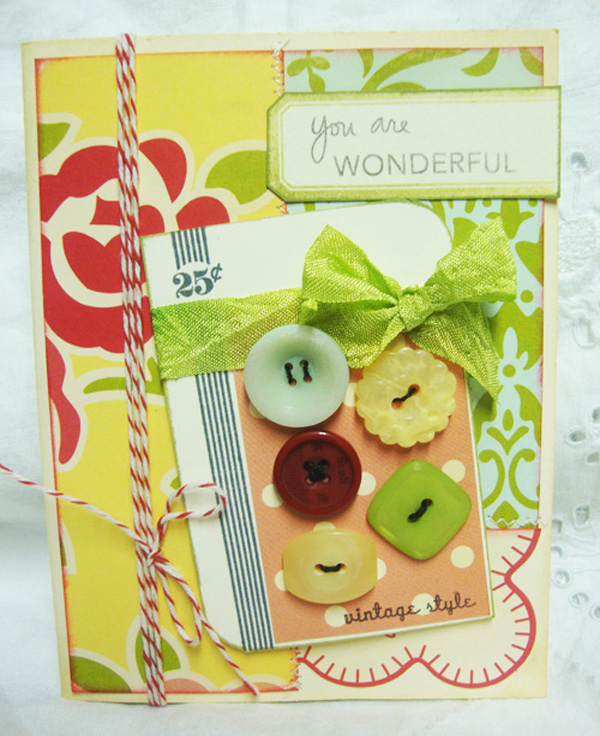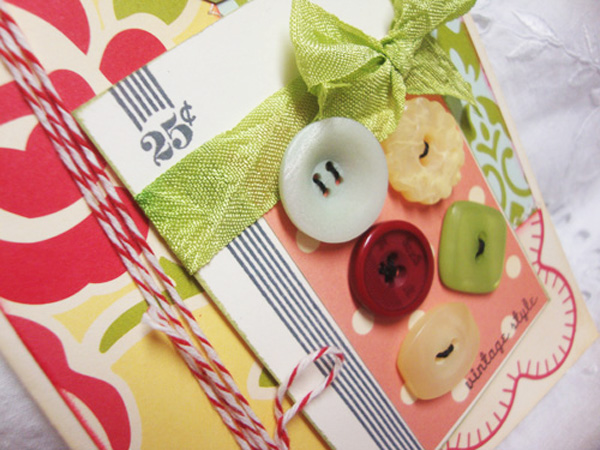 I do love to layer, but I hate to waste paper that doesn't show, so here's a trick that I use.
It begins with determining your base.
 
I decided that I wanted the pink polka dot to reside in the bottom right corner.
 
Make a light pencil mark where the edges of the pink will go:  bottom, top corner and side placements.
Here is where I am conservative.  Rather than going right to the lines, I like to give myself about an inch to work with.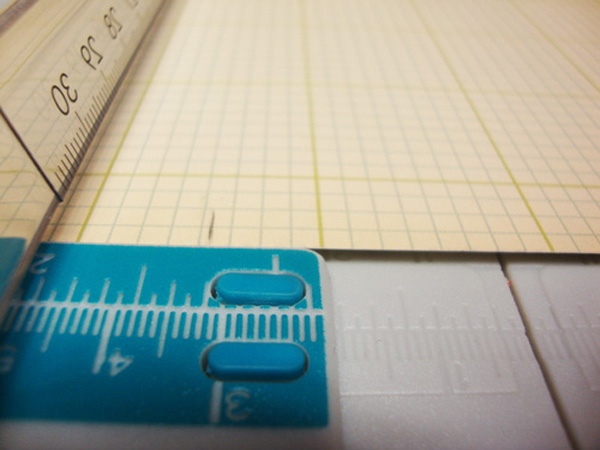 You can see my line and the place where I will be cutting.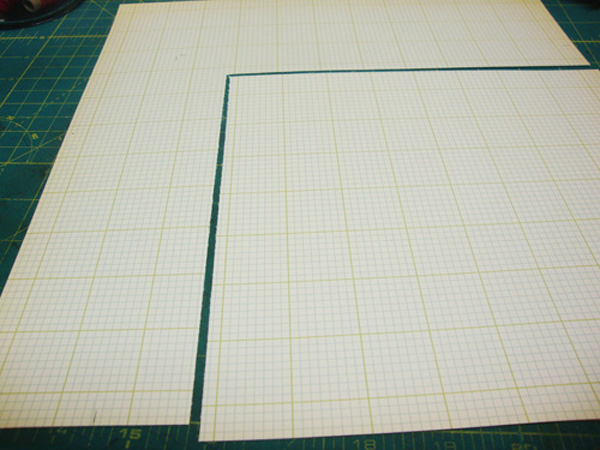 Now that I have cut out that piece, I can line up and attach the pink.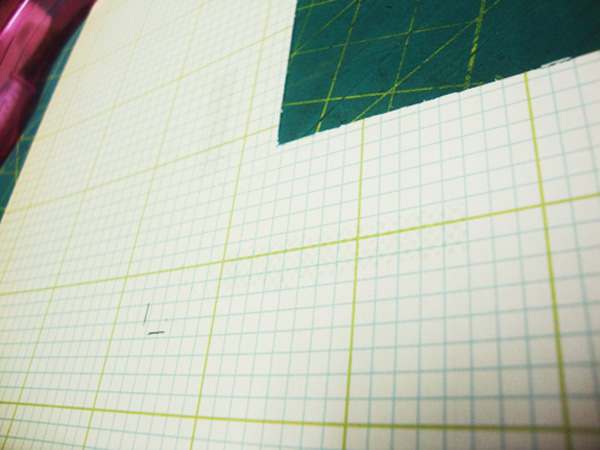 Can you see my dotted adhesive?  (Herma Dotto Removable)  I like to use that until I at least get it lined up correctly.
 
Now I have that extra paper to use on another project.
Anyway, I might have to wait a little longer to play with this some more, but a big thank you to October Afternoon for randomly picking me to be one of their winners!  Oh…and if you go today, they are having another random drawing, so go and leave a comment of their blog and the next lucky winner might be you! 
I am still patiently (sort of) waiting for the 5 & Dime embellishments to show up at my local scrapbook store for more projects.  Hope to see you soon, ladies!

Tags: October Afternoon, October Afternoon 5 & Dime, october afternoon cards and layouts, pleated paper, scrapbook layouts