I have somewhat come to grips with my situation after Sunday's mild melt-down.  It hadn't been accompanied with any "back of the hand to the forehead" dramatics, but it was definitely a moment of throwing up my hands in the air.  As a mom of teenage boys, I understand the energy that goes into a full day of battle, but that event was on Saturday and I was struggling with the air-soft weaponry all over the living room floor.  It wouldn't be so bad except that said living room is already littered with the scrapbook stuff that I have pulled to sell and/or get rid of and there is a whole lot of my mess – no room for anyone else's!
This is all in an effort to slim down the pile.  I have good intentions, but as Saint Bernard of Clairvaux once stated, "Hell is full of good intentions or desires", and right now, my office is hellish, as are my living room and kitchen, so I must turn those good intentions into actions and let my bounty become someone else's good deal.   So out with the old!  I would like to say avoid the new, but I am a realist.
In the spirit of renewed organizational determination, I have once again turned to "Confessions of an Organized Housewife" by Deniece Schofield to inspire me with words of wisdom.  In Chapter One, she explains the importance of thinking through things logically before you act.  If we simply attack the task, we may find ourselves doing things inefficiently.  Here is one example:
"Without realizing it, most of us are probably guilty of the same malady [acting before thinking], and I am no exception.  So many times I tell myself that there is a better way, yet I stumble along falling prey to my old, comfortable habits.  For example, when I'm baking something, I know I should start with a sink full of hot sudsy water.  But, sometime I say to myself, 'Don't waste time doing that – just get busy.'  When baking time is over, I am faced with a counter full of dirty dishes and little energy to do them.  Had I spent two minutes filling the sink, the dishes would have almost done themselves."
How true!  If I followed my daughter Liz's example, the dish would never rest at the sink…it would be washed and in the drainer!  Another tidbit of advice I couldn't resist.  In the same chapter, the author says:
"You may know certain people who spend hours doing a particular job.  Yet, another might be able to do the same job just as well, but much faster.  How is this possible?  Efficient people are motion minded.  While they are working, they are conscious of how they are working.
"The motion-minded person uses both hands effectively.  During the next week, notice how many times one hand is busy while one is idle.  As an example, what is your left hand doing while your right hand is brushing your teeth?  You can easily be sticking things away in a bathroom drawer or medicine chest.  Shoulder rests place on telephones will free both hands for activity during phone calls.  Become more aware of your hands."
Okay…granted, shoulder rests are no longer the norm – its the bluetooth that frees up your hands.  Now darn it – if only I could make my brain do two things at once!  I just noticed that my brain is proof reading, while my left hand is resting on the keypad and my right hand scrolls with the mouse.  Maybe I could figure out how to never make a grammatical or spelling error or change my train of thought, then I wouldn't have to proof read and could save that additional time.  Which reminds me of that song in "The Pajama Game"…
Think of the Time I'll Save
Hinesy:
I'm a time study man, and a time study man can't waste time.
For a time study man to waste time, is a crime.
So I'm ruled by the tick tick tock.
And I live my life by the clock.
I live my life by the tick tick tock of the clock.
When I go to sleep, I don't undress.
That's right, I sleep in all my clothes.
I must confess.
Sure it's a strange way to behave.
And I will admit that the suit gets mussed and it gathers lint and it picks up dust,
But think of the time I save.
Girls:
Think of the time he saves.
Hines:
The alarm clock rings, it's 6 AM.
And then right there in bed I shave.
That's what I said. While I am still in bed, I shave.
And the lather drips and the bed gets wet and oh what a lousy shave I get,
But think of the time I save.
Girls:
Think of the time he saves.
Hines:
At breakfast time, I grab a bowl.
And in the bowl I drop an egg, and add some juice.
A poor excuse for what I crave.
And then I add some oatmeal too and it comes out tasting just like glue,
But think of the time I save.
Girls:
Think of the time he saves.
Tick tock, tick tock, tempus fugit.
Tick tock, tick tock time goes by.
Hines:
I'll be sitting counting seconds til the day I die.
And when I do, I have a plan.
Before I'm dead, I'll dig my grave.
That's what I said. Before I'm dead I'll dig my grave.
'Cuz when St. Peter calls my name,
I know I'll get there just the same but think of the time I'll save.
Girls:
Think of the time he'll save.
Phew!  All this time saving is enough to make me need a nap!  But since I've been working on my room, I had to reward myself – it's like a doggie treat for obeying a command.  I can only stand to clean for so long.  So I made a couple of cards with that fun Graphic 45 Le Cirque paper.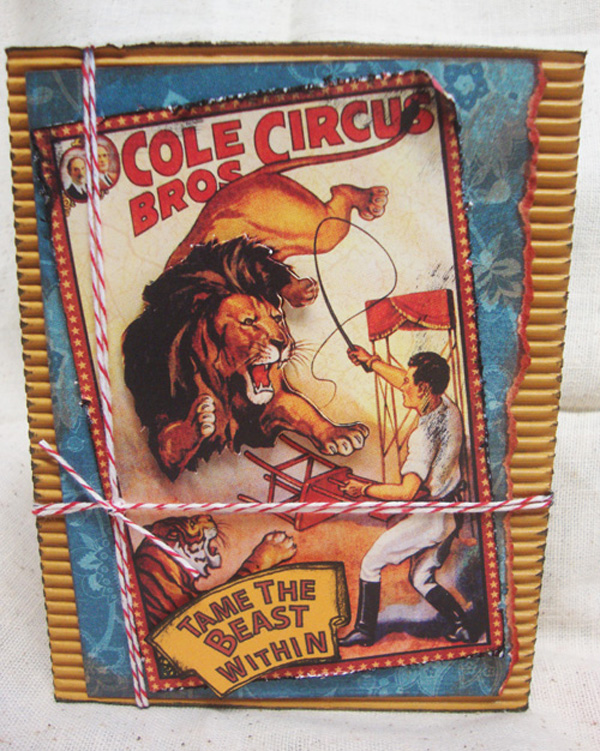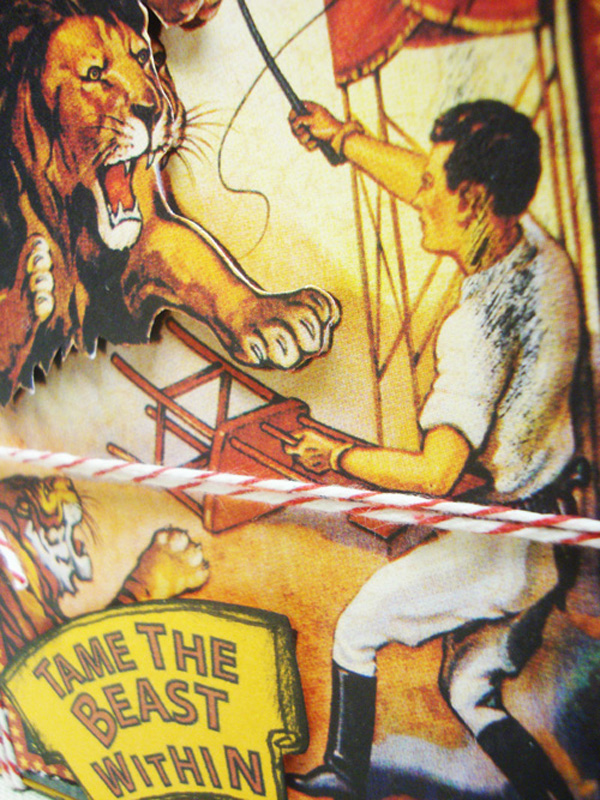 I love to dimensionalize an element or two on cards.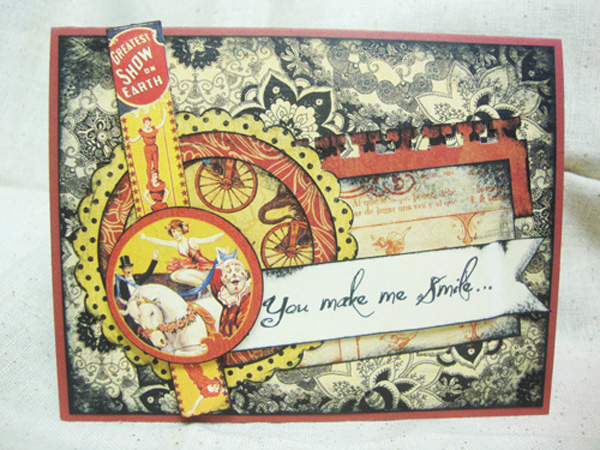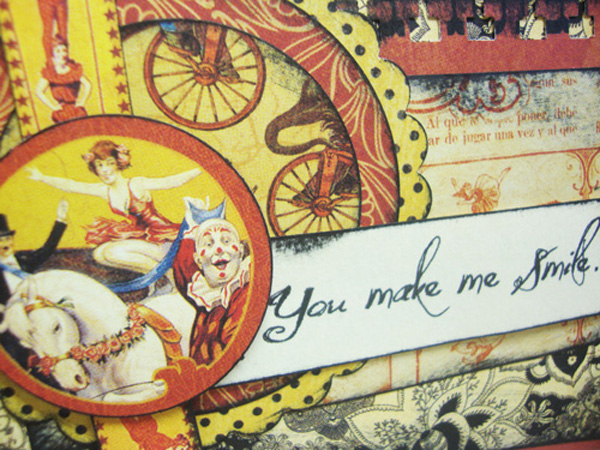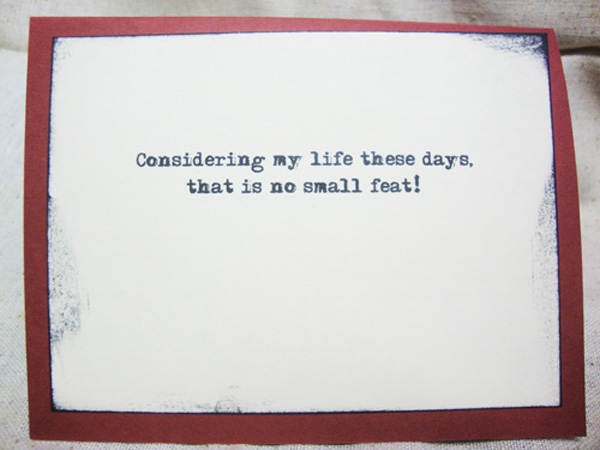 I am actually getting ahead of assignments I will have in the near future, so the effort isn't totally without purpose.  I really love this paper.  It is bright, playful and makes me remember when I wanted to join the circus.  It gets to stay in my stash for a really long time!

Tags: Confessions of An Organized Housewife, Deniece Schofield, organizing, Think of the time I'll Save