So…I was at CHAW (a craft and hobby trade show) last month. I was handing out business/contact cards to people that I knew from ages ago and some I was meeting for the first time. It reads: just helen and included my name, my typepad blogsite, email address and phone number.  It's what you do at trade shows…make contact with people/companies and "ooo" and "ah" over wonderful new product and tools.  So, I was in the EK booth and ran into Larry, who I have known pretty much since I got involved with the business end of scrapbooking. (When I first worked with scrapbooking.com and he was with Chatterbox, I would try to sell him banner space for the website.) Anyway, our paths have crossed many times over the years and at least once a year at trade shows. When he read my card, he looked puzzled and asked, "Just Helen? What? Did you get a divorce?". 
Huh???  What the heck was he talking about? Since when do people go around handing out cards at a trade show announcing their changed marital status?  Or maybe they do – but not in my world!   In an industry that sees yearly change in company faces (small companies get sucked up by big corporations, artists change their licensing agreements with vendors, individuals change jobs with competitors, and others partner up to expand their production capabilities) I suppose it wasn't that odd a question.  It would be difficult to keep track of everyone's personal lives when you only run into them once a year.  It was actually kind of funny when I thought about it.  Handing out cards is just my way of telling people what I'm up to these days – creatively speaking – in very minimal space. 
Obviously, things change.   There was a time when my going to a trade show would mean running from appointment to appointment selling ad space, showing new product, gathering information for an upcoming article or watching trends for the coming year. I am still doing a few design projects for Pinecone Press, but I am no longer part of any other design teams.  I don't work with a partner or create product for a manufacturer.
Do I miss designing product? Sometimes I do. Will I design again? I sure plan on it. Do I miss the craziness? Not much. Am I busy? You betcha!  My life is going all different directions and I don't see it slowing down anytime soon. Am I bored? Not a chance. Is my life boring? Well, that depends on YOUR perspective versus mine. 
I have found that my biggest problem (creatively speaking) is that I have so many ideas for things I want to do and I can't seem to find the time to do them all.  It was supposed to get easier when the kids became more independent, but that hasn't happened.  I think that is one of the reasons I like to blog.  It gives me some momentum to DO things.  If I just sat around all day and didn't do anything, I wouldn't have anything to blog about.  After 184 posts, I can finally say that I am committed to blogging.  A successful blog has to have something that will bring it's readers back again and again. Some find it with recipes, some with political dialog.  Some like to gossip and others  feed on controversy du jour. 
As for me and my blog?  I haven't pin myself down to any one subject…yet.  I don't think that you have to.  Life is full of interesting experiences.  I have been through many phases.  I used to quilt, but then my fingers started going numb as I stitched.  When I discovered scrapbooking,  it opened up a whole new avenue of creativity.  I can take heart in the story of Anna Mary Robertson Moses, better known as "Grandma Moses" who took up painting in her 70's.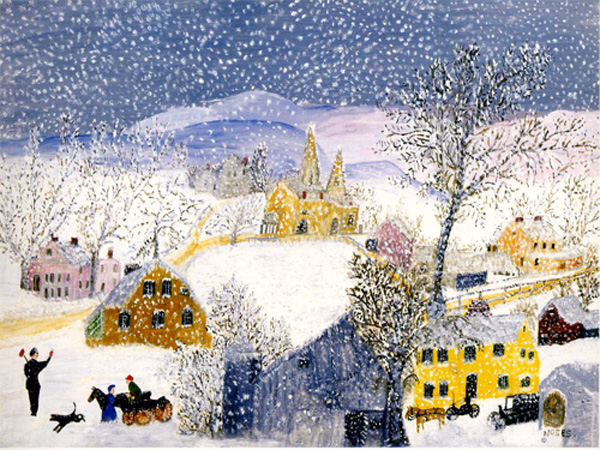 In a Mother's Day Feature in True Confessions (1947) it was noted that "Grandma Moses remains prouder of her preserves than of her paintings, and proudest of all of her four children, eleven grandchildren and four great-grandchildren."  (I can totally see that in myself!)    Grandma Moses once told reporters that she turned to painting in order to create the postman's Christmas gift, seeing as "was easier to make [a painting] than to bake a cake over a hot stove."  Grandma Moses sounds like my kind of woman.  We are multi-faceted beings. Who knows what will grab my interest next.  I have a few years to figure out if painting might be my next endeavor. 
So watch out, Ray (our regular postman)- the next gift you get might be a masterpiece and you won't know it for years.  But trust me – you might want to hang on to it, just in case!  Unless, of course, it is one of my delicious cupcakes (no one needs a whole cake), in which case you might want to gobble it right up! 

Tags: getting older, Grandma Moses