I'm back!  I am so out of the habit of posting!  It has been over a week and I rarely go that long without a post.  I went off to CHA (in Los Angeles) without so much as a second glance back…well, I did make sure there was plenty of food in the house for the boys.  There always is, but if it isn't prepared, the menfolk would claim that there wasn't anything to eat!  Oh yes, and the laundry was done so they would have clean clothes to wear.  It is amazing how leaving the house for a few days can get you out of those daily routines that become such a part of life, like cooking, doing dishes, the laundry…and blogging!  Megan got some time off work and came along for the adventure.  It's always more fun when you're sharing the experience – safer, too.
Since we had different places that we wanted to go while in LA, we borrowed Tom's TomTom (it was a gift for him from Megan for Christmas) and actually plugged in the address to the hotel.  We didn't really need to, since we knew how to get onto the I-805, which merges into the I-5, which splits into the I-405, which is where the hotel was off of.  Originally we had planned on leaving by 2pm, but we were about an hour late, which is normal for us.  It's what almost always happens when we leave for a trip, especially if we don't have a firm arrival time, but it did mean weekend traffic.  We were happily chatting, driving along in the carpool lane until we were about to come to the split when the TomTom was telling us to take the I-4 west 5 to the right – this was not the first confusing element of the directions given, but we had just laughed at the navigational equipment's pronunciations before.  Anyway, it ended taking about 3 hours to get there – at least an hour longer than necessary and the sad thing was that we didn't even get to enjoy the scenery, if there was scenery to be seen, because the traffic was heavy and it got dark and we weren't sure which direction we were headed and that can be dangerous wherever one travels. 
Dang…all that typing and we just got to the hotel!  I'd better speed things up.  I have to admit that our eating out was on the "no-so-memorable" list…you can always count on Carl's Jr. for a quick drive-thru breakfast…every morning -I know but hey, it's all we had time for!  We skipped lunch, unless you count the cupcakes at Cricut and the little candies that companies had sitting around.  For dinner we did Polly's Pies the first night (really good – gave Megan an idea for mixing up the grilled cheese sandwiches at home); Subway (good, but nothing fancy:), PeiWei (always hits the spot); Subway (again…I know, but it was across the street); then Taco Bell for dinner on our way home.  We girls really know how to "fine dine" while traveling, don't you think?
There you have it…the sum of our adventure.  Oh wait…there was the show!  Dang – not many pictures.  I did take a picture of the three little pincushions that I made for Cosmo Cricket…um, in the hotel, not their booth. (The lighting is really bad…sunrise coming in the window.)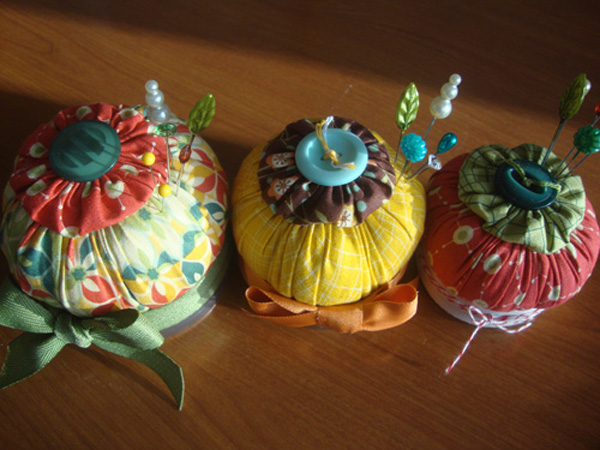 They were really cute in the booth on their make-and-take table.  But alas, I was a slacker.  I was just having too much fun!  Plus, there's that loud-speaker that comes on, saying about taking photos without the express permission of the companies is forbidden, ya-da, ya-da, ya-da…so I kind of put it out of my mind.  However, I couldn't resist taking a picture of this: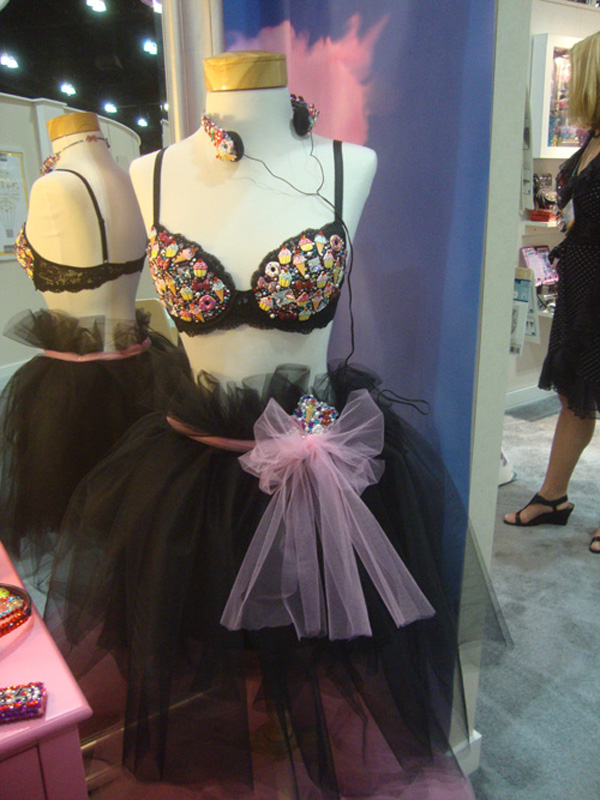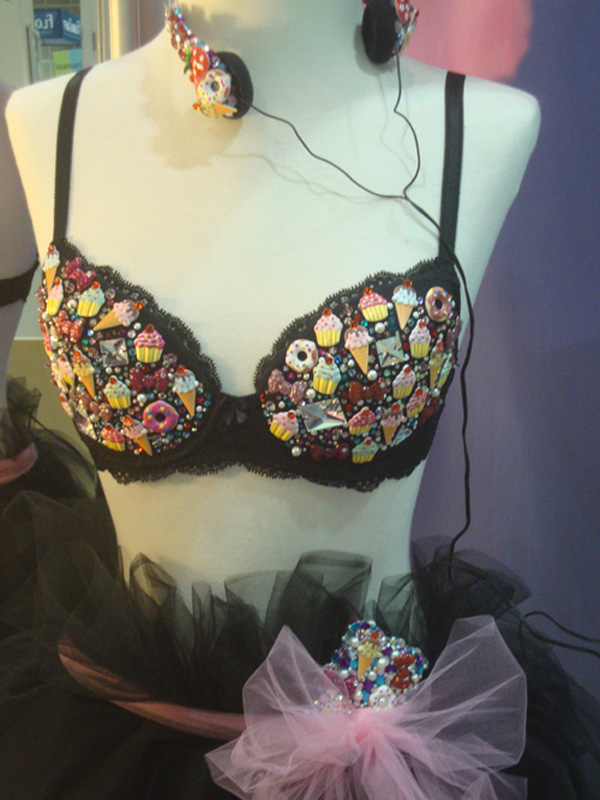 This was at the EK Success booth and should have come with this warning:  Mamas, don't let your daughters grow up to be blingers!!!  I know, things are always exaggerated at trade shows and it was so pretty and sparkly that I couldn't resist snapping a shot of this, but it is not an endorsement for appropriate attire!   I must say that they had a great variety of make-and-takes that covered the broad spectrum of all their new kits and they were very generous and fun to make…will show more later.
While in the Graphics 45 booth (which was, by the way PHENOMENAL!) one of the booth ladies said to "Take all the pictures you want"…sounds like express permission!  Here are a few!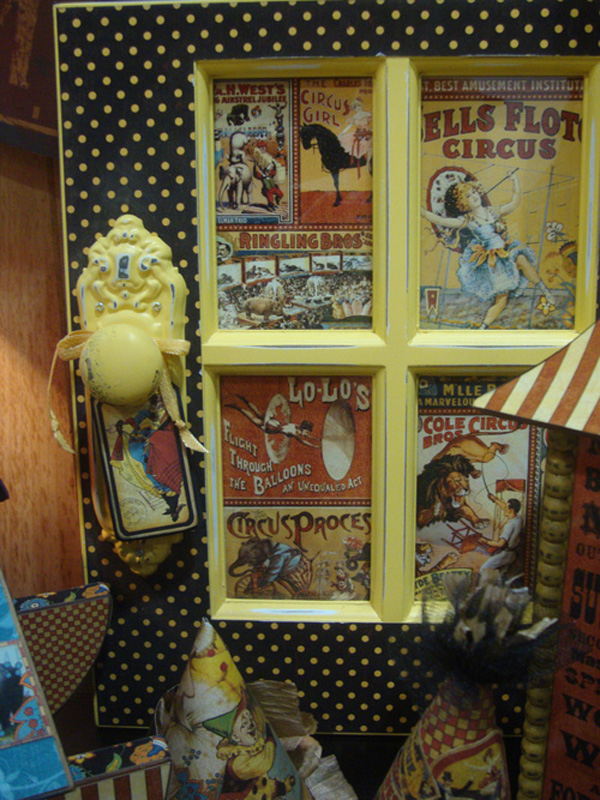 Love this…and that knob is part of the product line! 
I love the pull toy!  Not for pulling, though!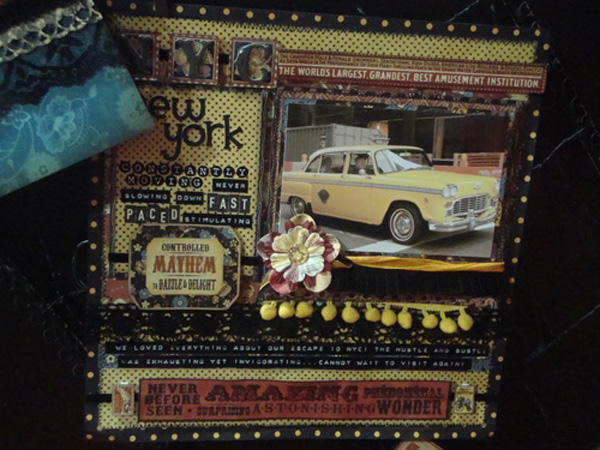 Oh, and by the way, I get to work with this fabulous product for a kit for Pinecone for next month!
I can't even decide which of the product I am most excited about – I will link to the lines I didn't take pictures of.  I have been busy since I've been home working on projects for Pinecone Press.  Here are some of the remnants…will show projects later!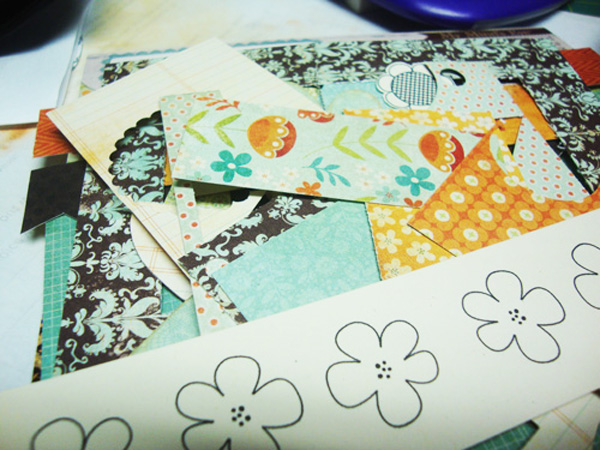 The TomTom kept trying to get us lost on the way home from the show, but we just turned him (or her) off and navigated as usual.  We found our way back to the Pinecone warehouse, where I picked up some of the Graphic 45 Le Cirque collection to take home to play with.  I love to get away, but I'm glad to be home.  I'm cooking up a storm and I'm ready to share…and blog…again!

Tags: CHAW 2011, Cosmo Cricket fabric, Graphic 45 Le Cirque