As I sit at my desk, realizing that it has been over a week since I last posted, I was wondering what it is that is causing my funk.  Then it dawned on me:  How can I focus on Valentine's Day when I am still surrounded by Christmas?  I love the different seasons, and while Halloween and Christmas are definitely the biggest for decorating, it is still much easier to focus on an upcoming holiday without the Ghost of Christmas Past in view. 
I know what you're thinking – what is the matter with me?  Why haven't I taken the time to put Christmas away?  I try not to admit this, but occasionally, I find myself on the slightly helpless side.  You see, our Christmas storage bins are all stored on an up-high, attic-sort-of-shelf in the garage that requires a 10-ft ladder to get up there to bring the bins down.  In past years, I might have just done it myself…getting down empty bins is certainly easier than putting them back up – I could never do that alone.  Plus there's the fact that we have to get all the Halloween and Easter bins down so that we can put Christmas in the back…it can really make a big mess.  Everyone's schedules have been so busy that I haven't wanted to push.  I suppose this is what it's going to feel like when I get even older and more frail…not that I consider myself anywhere near frail yet!  However, my family doesn't like me climbing up on chairs let alone 10 ft. ladders.  So for now, I think I will just have to block out the snowmen, angels and santas and move on to…hearts, flowers and romantic sayings?
Gathering red and pink elements are a great place to begin.  After all, that would be an obvious base palate, right?  I do use pink and red for Christmas as well,  but never in such narrow terms and generally not with hearts and roses.  So lots of pink and red it is.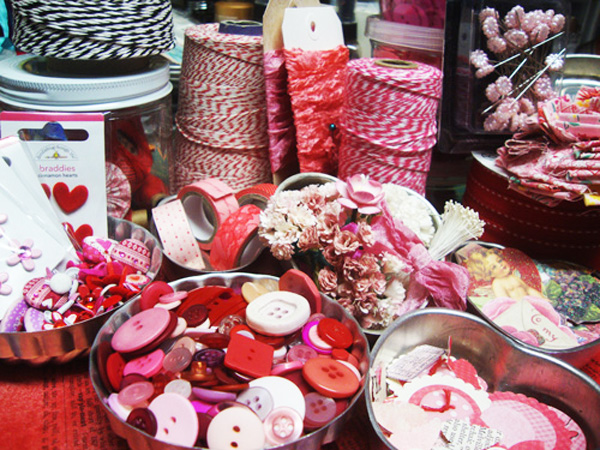 I think this is a good start.  I should be able to get a few good ideas from this nice little stash. 
Here is my first card – probably all I will let myself do today!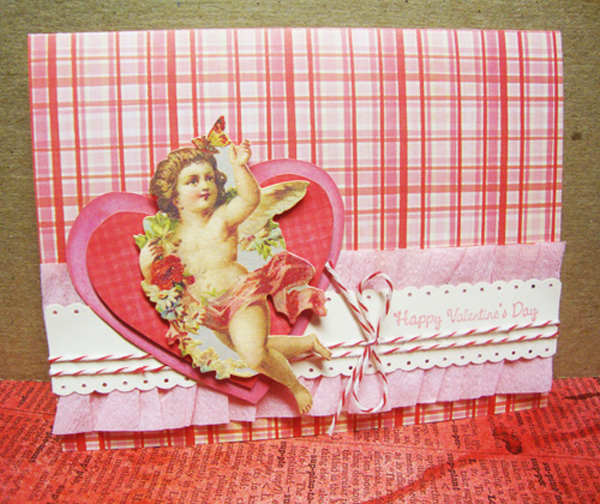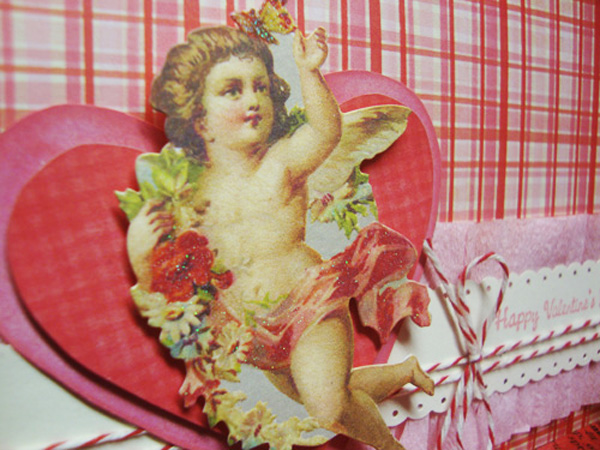 I used some pink crepe paper, red and white baker's twine from Crate and Barrel and the little Cupid is from K and Company.  The paper is from Pinecone Press and the border punch is from EK Success.
UPDATE:  Christmas is put away!  I am really tired, but there's always next week and now I can focus on the upcoming Valentine's Day – guilt-free! 

Tags: Pink and red, pink and red elements, pink and red valentine's day cards, Valentine's Day cards