Creating "stuff" is always a process.  It goes from an idea, to a plan, to a follow through – and sometimes it goes around another time.  This time it all started with  some very cute fabric.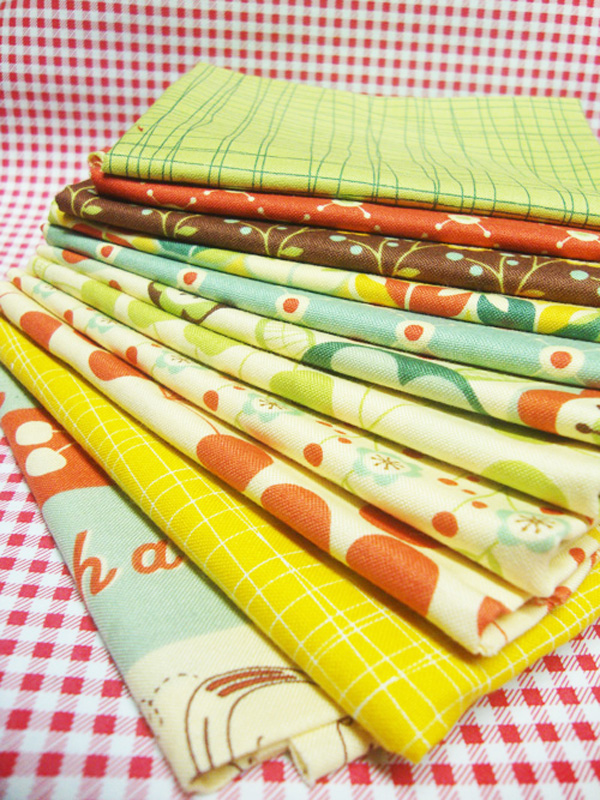 Do you recognize it?  Well, if you said Cosmo Cricket's Early Bird, you'd be right!  Isn't it the cutest?  And I have a fat quarter of each pattern.  Hmmmm…not enough to make a dress or curtains, but I'm sure that I can come up with something.  Some of you might remember a recent project that I was working on – pincushions.  Here I had this darling little pile of fat quarters that I had completely overlooked in the process of making them earlier this month.  I would revisit the possibility and…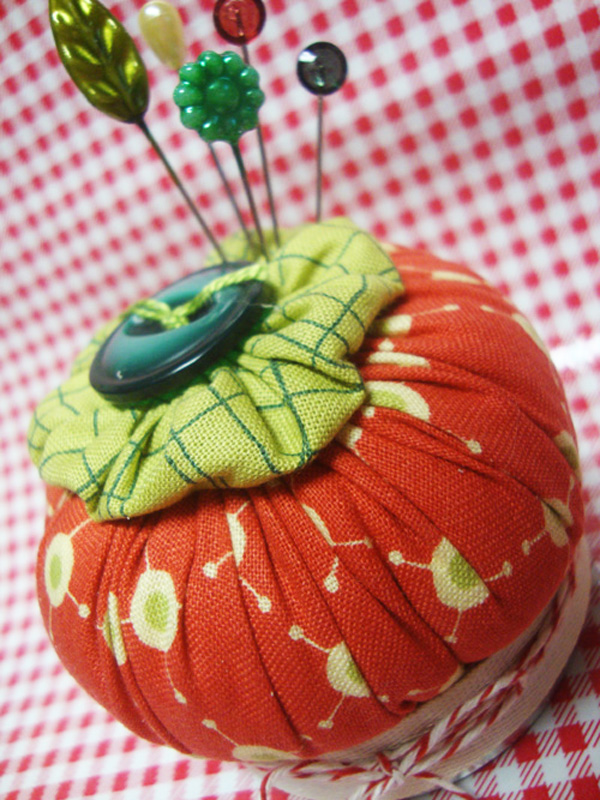 Too cute!  Well revisiting the little fat quarters reminded me of something else I had…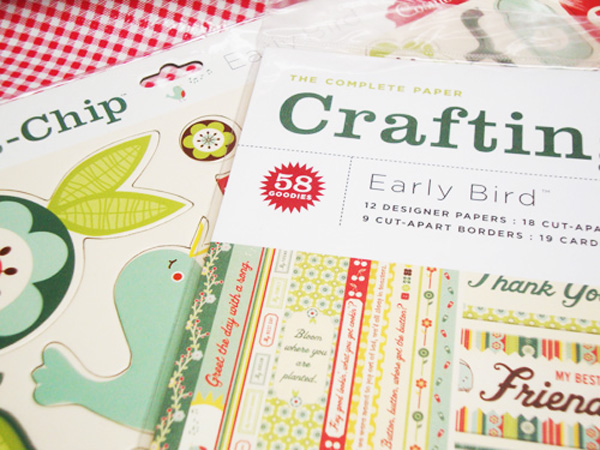 The Early Bird paper line that was the start of the Early Bird fabric collection!  Now I had made the pincushion with someone specific in mind, but I'm not telling who because that would spoil the surprise.  But since it's a gift, I will need a card to go along with it.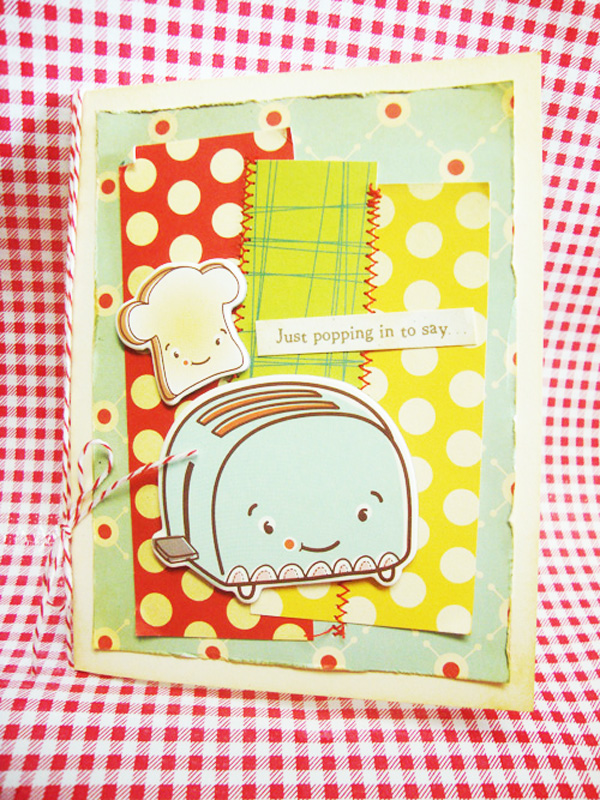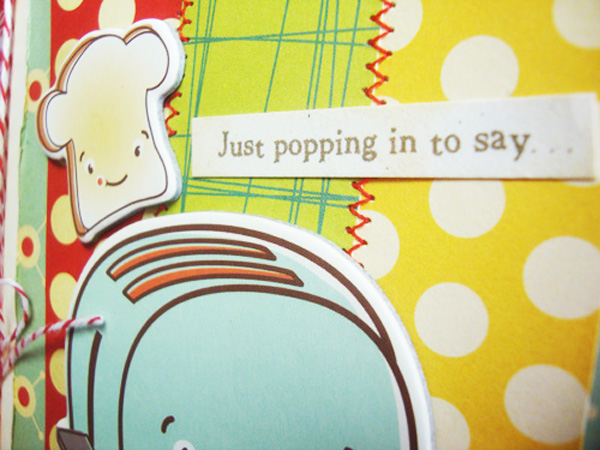 Can you think of anything more fun than cute fabric and cute paper that matches?
So while I was making the card, another idea came to mind.  It makes me sad to think that one of my little creations would end up tucked away in a drawer or worse still – tossed into the trash!  So I came up with this idea…paper revitalization!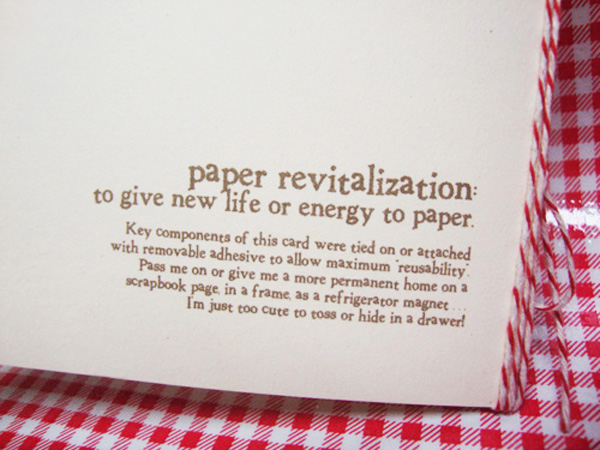 I mean, a card doesn't have to hold together forever, right?  It's not like a scrapbook page.  Once the sentiment is received, why not give it new life?  So I used removable Dotto on the backside of the chipboard, wrapped over 30″ of baker's twine around the center and tied it in a bow NOT a knot so that you don't lose any precious inches.  Instead of stitching the strips to the card, they are only stitched onto the  Cherry Pie piece. 
I had to try out my theory to see if it worked and…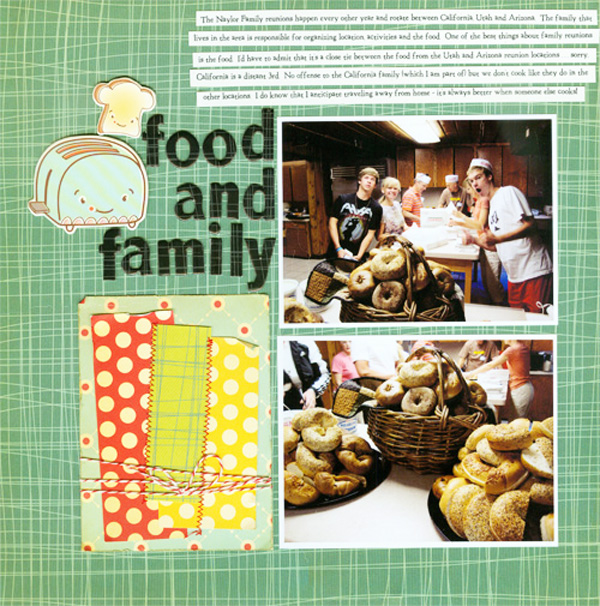 with an extra piece of patterned paper and some chipboard letters, my card has taken on a new life.  Only problem? That card was supposed to go with the pincushion…drat!  I'll have to make another.  Only problem is, I don't think that the person I'm giving the pincushion to really needs any more Early Bird embellishments!  Oh well, it's something to think about!

Tags: Cosmo Cricket Early Bird, Cosmo Cricket fabric projects, greeting cards, pincushions, Re-purposing cards