The chill in our house this morning did not encourage that "early to rise" motto that Ben Franklin famously gave us: Early to bed, early to rise, makes a man (I think I can substitute woman here) healthy, wealthy and wise. I was thinking that I could use a little more of all three of those things in my life right about now! I have delayed making any New Year's resolutions…I usually do.  Is it too late to do that on January 4th?
Christmas is calling for me to put it away.  My husband has already taken the lights down, so he's done…well, technically we still need to get all the Christmas bins down out of the attic so I can actually put all the decorations away.  There is a little part of me that wants to delay taking everything down, but at the same time I long to de-clutter all the knickknacks and make for easier dusting for that rare occasion when I actually DUST.  But my workroom is calling me.  There are fun projects I want to work on but I have delayed because I was busy making things for Christmas, and I try not to bury myself in my workroom when family is around (although they might argue that I still do) and all my children were home for Christmas. 
I'm grateful that everyone is still able to do that, that they want to come home.  I can't imagine not having a good relationship with my family.  I am grateful that my children love each other and get along…for the most part.  Disagreements always happen when you have any size family, and the more you have, the more opportunity for there to be different opinions.  I hear stories from my children of families divided, that have little to do with their children, either because the children are rebellious or they won't do what their parents require of them.  I'll take all the family I can get and I'm happy to have them around…even if, on occasion, they are being difficult, which my "practically perfect in every way" children rarely are.
But the out-of-town family have returned to their various abodes.  Now that we are back into a regular routine, I have found my way back to my workroom.  I am ready for some fun!
I am going to give the Etsy thing a go again.  Many, many moons ago, I did small craft fairs.  Now I can get creative and share without leaving the comforts of home.  I'm starting off small and we'll see where it goes!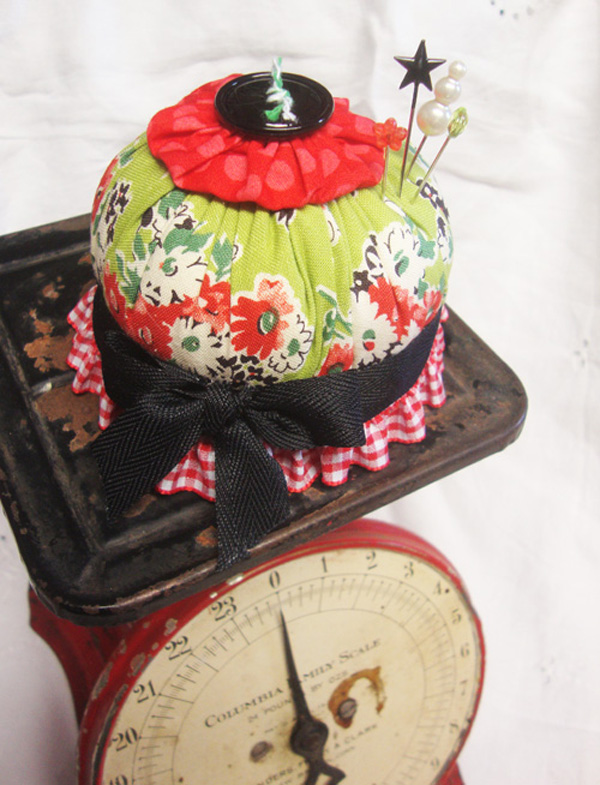 This cute pincushion (sitting on top of my antique scale that Michael gave me for Christmas) is about 3.5″ wide by 3″ tall.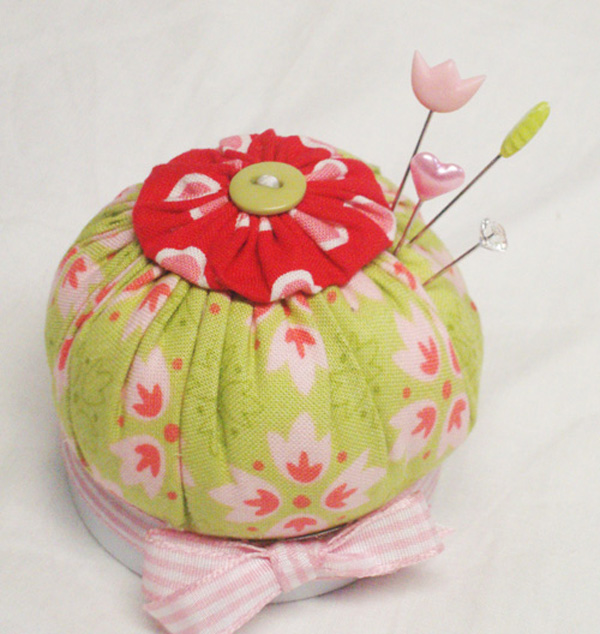 Here's another pincushion, measuring about 2.5″ wide by 2.5″ tall.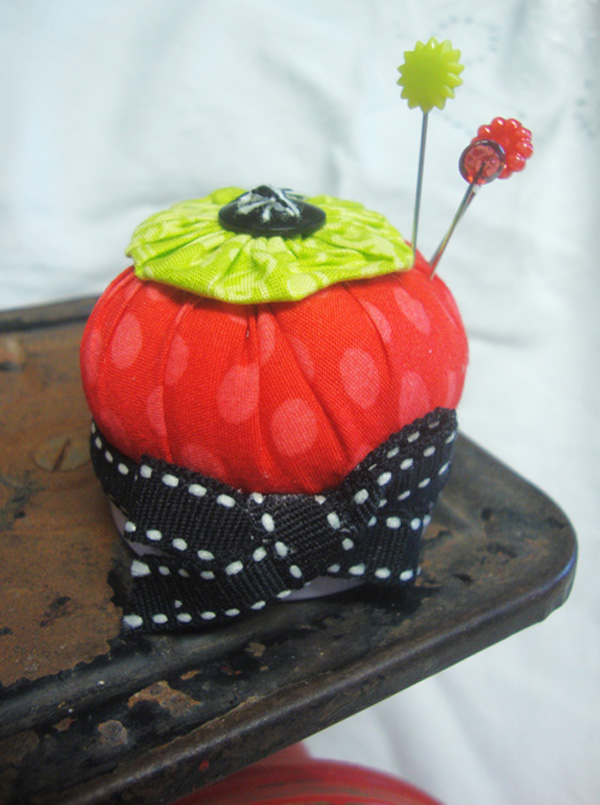 Here is the smallest pincushion, measuring about 2″ tall by 2″ wide.
These pincushions are not your grandma's garden-variety red tomato type.  But they will liven up any small space with a touch of color.  You can see other listings at my Etsy shop.  I'll be working on posting other items soon, including supplies that I plan on making into kits.  I'm so excited that CHA is coming soon!  It's always a treat to go see all the new product out there, even though I need to be careful what I bring home with me because space is limited!

Tags: etsy, fabric yoyos, New Year's resolutions, pincushions