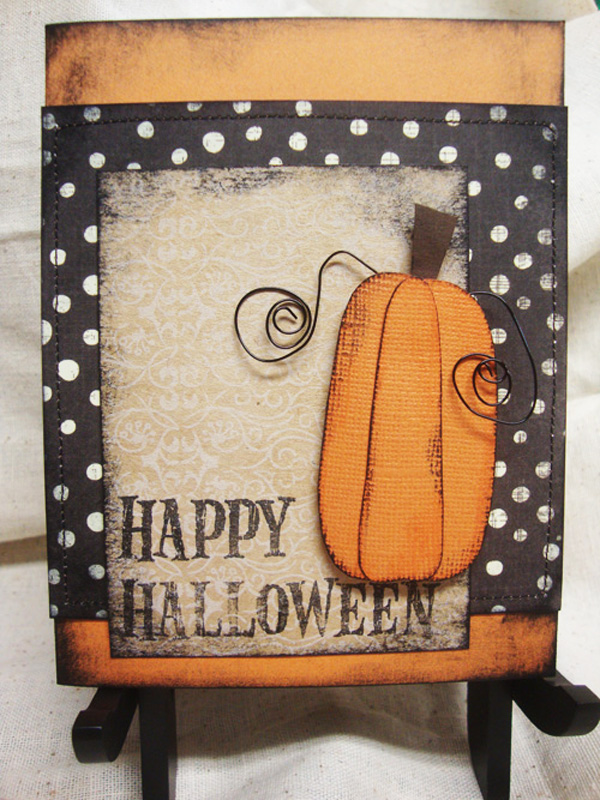 When I got into my car yesterday morning at 6:00am and the outside temperature was 72 degrees, I had this feeling that I was in for a middle-of-the-summer-in-Las-Vegas-kind-of-day…I was not mistaken!  When I went to run errands at 10am, it was 108.  So, even though I wanted to bake those Pumpkin Chocolate Chip Cookies, I determined that the only place I was going was into my workroom, shut the door and turn on the air.  I decided that just because summer was trying to get in my door, didn't mean I would give up the fall I was so ready to embrace.  With cookies off the list and cleaning at the bottom, I went to the next best thing to baking – paper crafting!!!  Have I ever mentioned how much I love playing with paper?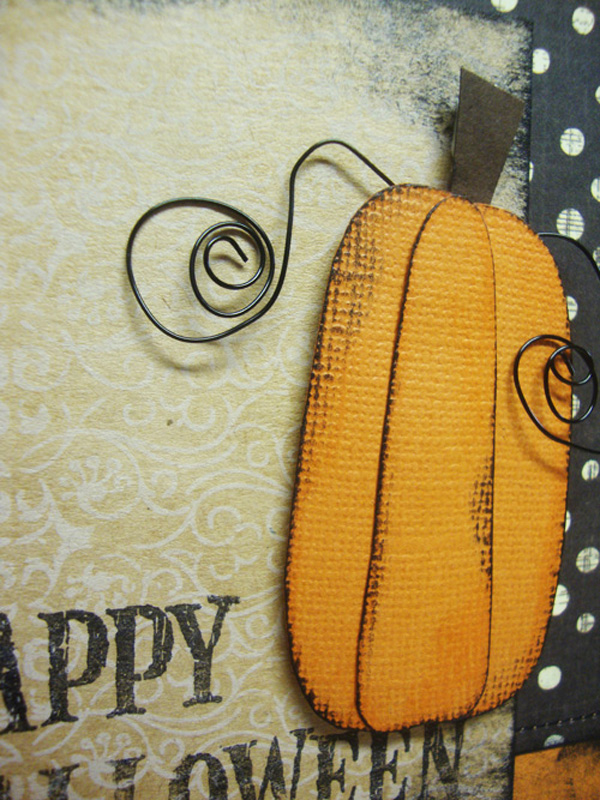 If I can't have the cookies, I'll settle for a little pumpkin wanna-be.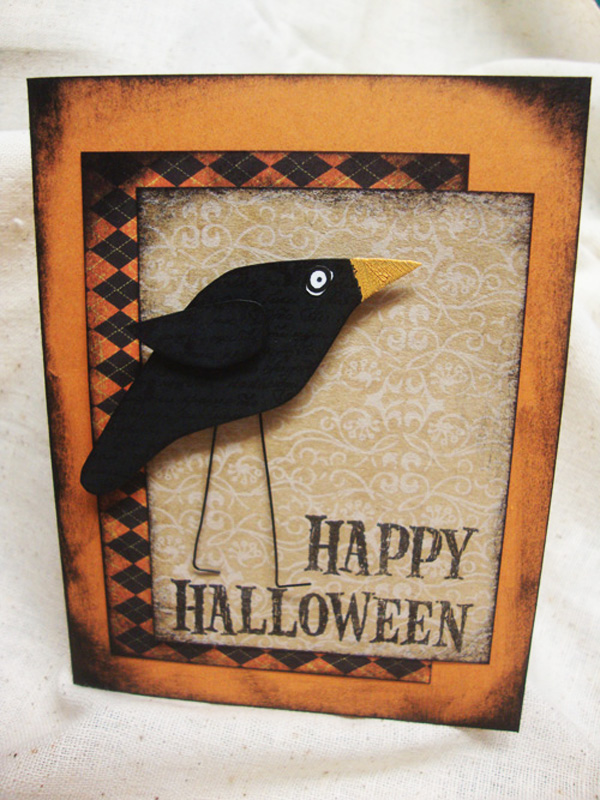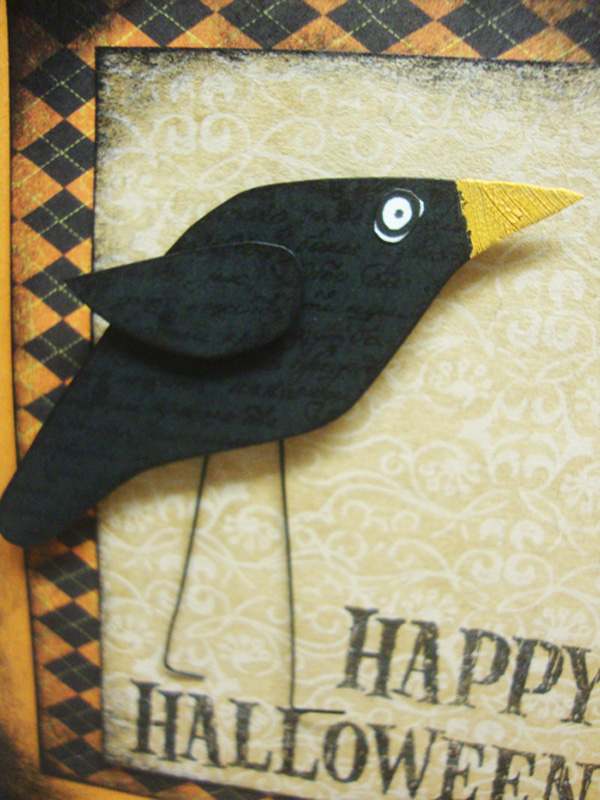 I was really inspired by the elements of My Mind's Eye BlackBird, and I added a little Haunted to the mix.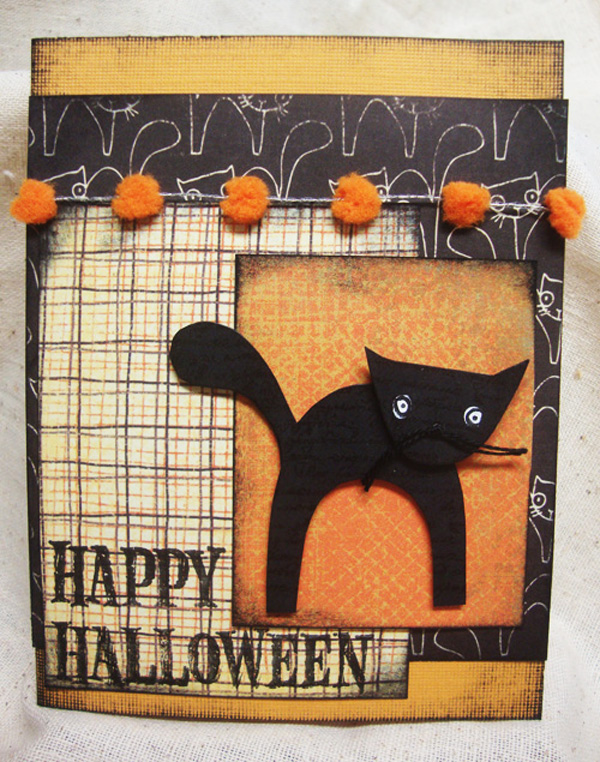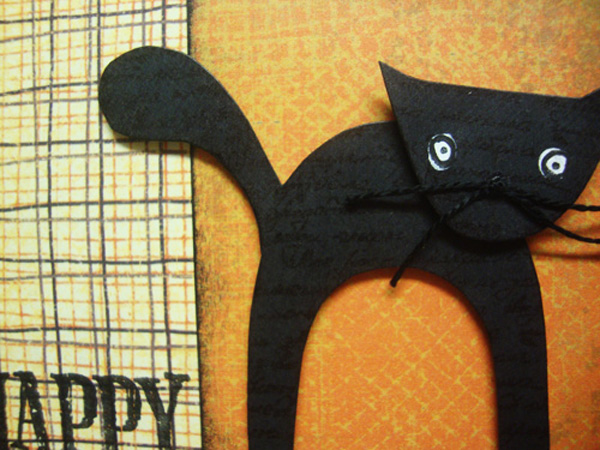 I can tell that it's going to be another hot day today; not quite as bad as yesterday, but they say that the humidity will make it seem like it is.  I really don't like hot weather.  However, there is one thing worse than hot weather and that is hot and HUMID weather!  I will find a way to stay cool.  No, I don't know how yet, but I'll figure it out.
I do have one little bit of drama in my mix.  Yesterday, when I was buried in my workroom with the door shut and the air conditioning on, (the invitation for Tom to join me had been extended) I heard Tom hollering something about a lizard in his room.  Don't know how it got into the house, let alone upstairs, but here is yet another problem to deal with.  Tom doesn't like the idea of sleeping in the same room as a lizard on the loose, so he's moved to the the living room floor (yeah, go figure that one out!).  I just hope it doesn't make it's way into my workroom or I'll be in big trouble!  I'm sure the lizard has no idea how his small presence has such a disturbing affect on such large beings!!!

Tags: Halloween cards, holiday cards, making dimensional elements, My Mind's Eye BlackBird