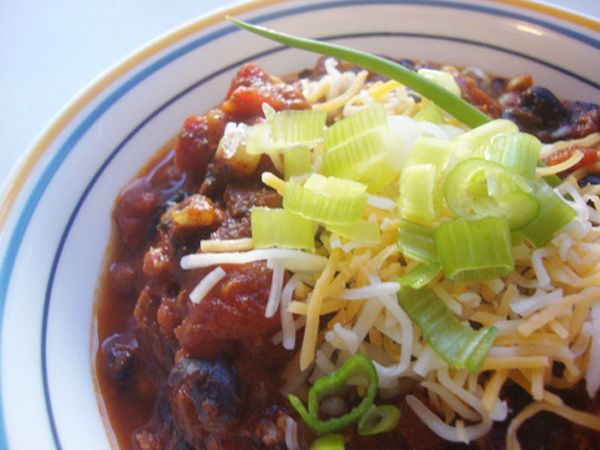 For our August Relief Society activity, we are repeating our somewhat traditional chili cook-off.  Normally, at our house, having chili for dinner means opening a can of Hormel or what-ever-I-got-really-cheap-on-sale other brand.  Somehow it seemed wrong to just open a can for tonight, although there was that category available.  So I stepped up a little – I even cooked the black beans from scratch, something I rarely do.  However, I do have a bunch of cans of dry black beans from the Family Home Storage Center and it would be wise to know how to cook them.  I'm sure to have cans of beans on the shelf that are ready to eat – there are days when that is called for.  But with just a little preparation – thinking ahead – it's not a difficult task to cook those little black beauties.
So here's a picture of my recipe…almost looks professional, doesn't it!
Serves about 12 – 15
3 cups uncooked black beans (or 4 – 15oz. cans of prepared black beans)
2 1/2 teaspoons salt
2 Tablespoons olive oil 
1 large anaheim chili, diced   
1 medium onion, chopped
1 1/4 lbs. ground turkey  
4 cloves of garlic  
2 large ears of fresh corn, cut off the cob  
4 – 15 oz. cans crushed tomatoes    
3 – 8 oz. cans tomato sauce
1 – 6 oz. can tomato paste
2 teaspoons crushed oregano
2 rounded teaspoon cumin  
1/2 cup McCormick Original Chili Seasoning Mix (I used this because I had it on hand and was out of regular chili powder.  It helped to thickened my chili a little bit.)
For those of you that don't cook beans from scratch, open the 4 cans of beans and rinse.  Otherwise:
Rinse 3 cups of black beans; place in a 8 quart pot, add about 8 cups of water and bring to a boil.  Boil for 2 minutes, turn off burner and let soak for at least an hour.  Drain and rinse the beans, add 8 cups of water, 2 1/2 teaspoons salt and bring to a boil; reduce heat and simmer the beans for 1 1/2 to 2 hours, until tender but not mushy.  (Check your beans after the first 1 1/2 hours; watch them or they'll only be good for refried beans:)  Rinse the beans and drain; set aside in the big pot.
After you do the first check on the beans, chop the onion, anaheim chili, press the garlic, and add olive oil to a large frying pan.  Begin sauteing, and then add the ground turkey; cook until the vegetables are almost done.  Add the corn and cook a few more minutes.
While the meat mixture is still cooking, open the cans of tomatoes, sauces and paste and pour into the pot of beans.  Add the seasonings and begin heating.  When the meat is done, combine all the ingredients into the big pot.  Simmer for about 1 hour. 
Mike liked this with tortilla chips!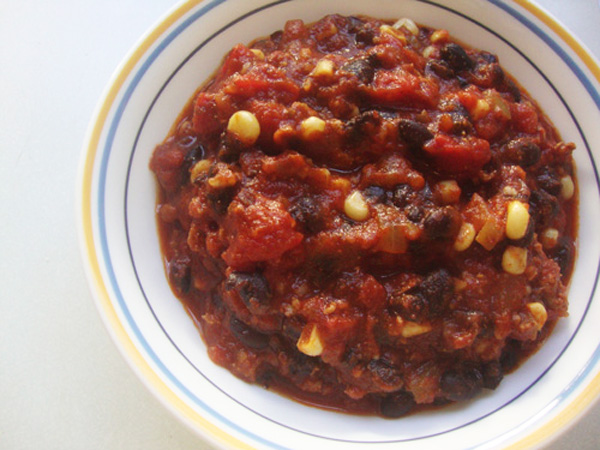 (This is the "ungarnished" version…for the way my boys like to eat it…the unfancy way!)  Anyway you eat it, it was D-E-L-I-S-H!!! 
Considering the weather here in San Diego, this was perfect for the chilly weather.  This will be yummy the second day…IF there are any leftovers!

Tags: Black Bean Chili, black beans, chili from scratch, cooking with food storage, Summer Chili