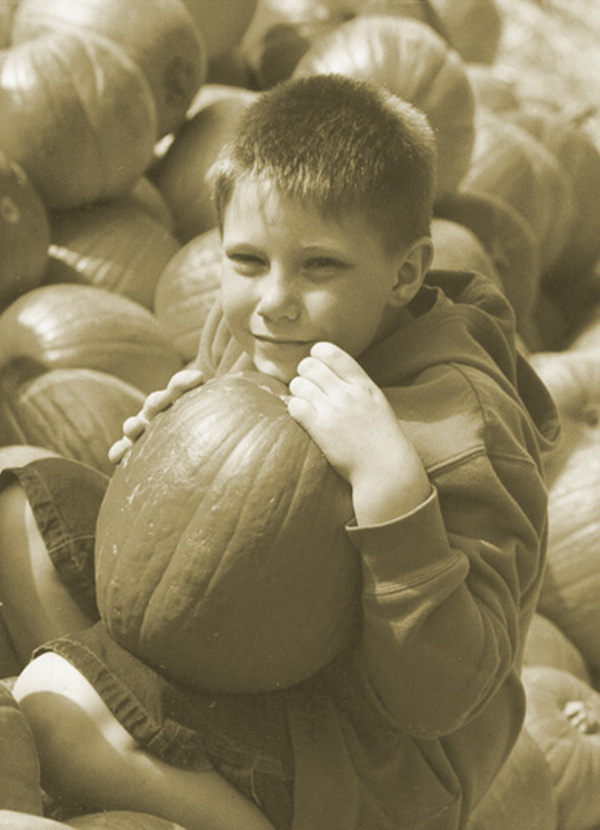 Scott and I went shopping for pumpkins last night at WalMart (yes WalMart!) I came to the realization that gone were the days of the long treks out to the pumpkin patch/haunted maze/scary woods.  Everyone is so busy getting ready for their respective projects that organizing an outing any further than the next freeway off-ramp seems highly unlikely.  With Megan gone taking care of her big sister, Christie, there isn't anyone to press the matter.  I asked the boys on the way out the door if they would like a pumpkin to carve and they both said "sure" so we got to choose their pumpkins for them.
Pumpkin carving has always been a fun tradition.  I talked to a friend the other day…an "empty nester".  She said that they didn't decorate for any of the holidays anymore except Christmas.  That made me a little sad, but it also made me determined to decorate as long as I can access the decorations.  My decorations are like old friends – even the new ones!  I like to unwrap them and sit them around the house, like I would an old friend that might come for a visit.  They only stay for a short while, but they will always be welcome!
While at WalMart, I also picked up some canned pumpkin.  I don't make pies, but I love it in other recipes.  One of my favorites is Pumpkin Drop Cookies, but known at our house as Pumpkin Chocolate Chip Cookies.  The original recipe called for raisins and chopped walnuts, but my kids have never liked those much, so one time I substituted the raisins and nuts for chocolate chips.  They were a hit and are divine little bites of moist, pumpkinie chocolate goodness!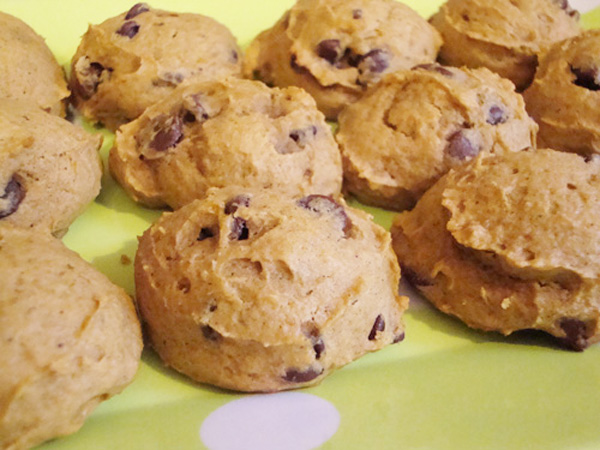 Pumpkin Chocolate Chip Cookies
4 cups flour
2 teaspoons baking powder
2 teaspoons ground cinnamon
1 teaspoon baking soda
1 teaspoon ground nutmeg
1 cup butter or margarine – use butter, its better!
2 cups packed brown sugar
2 eggs
1 15oz can of canned pumpkin – not pumpkin pie
2 teaspoons vanilla
1 12oz bag semi-sweet chocolate chips
Pre-heat oven to 375 degrees.  Spray a cookie sheet with Pam.  Stir together flour, baking powder, baking soda, cinnamon and nutmeg.  In a large mixing bowl, beat butter for about 1 minute; add brown sugar and beat until fluffy…sort of fluffy.  Add egg, pumpkin and vanilla; beat well.  Add dry ingredients to beaten mixture, beating until well blended.  (There certainly is a lot of beating going on!)  Stir in the chocolate chips.  These are drop cookies, so the dough will be soft.  I like to use a small cookie scoop so the cookies are more uniform (and my fingers don't get so messy!); but you can use a soup spoon if you like.  Drop onto the pan about 2″ apart, unless you're trying to get done sooner and put them about 1 1/2″ apart…they seem to bake fine that way.  Bake for 8 to 10 minutes or until the bottoms are golden brown.  If your cookie scoop is too big, it might take a little while longer to bake them.  Cool on a rack.
*This recipe has been doubled and makes about 5 – 6 dozen.  I had a hard time keeping track of how many I made because they kept disappearing from the cooling rack.  This recipe originally called for 2 cups of canned pumpkin and a 15 oz can is almost a quarter cup shy of this measurement.  I used to buy a bigger can, but then I had extra pumpkin leftover.  No matter how I measured it, it was a bother.  I just use the 15 oz can now and it works fine that way.
I have heard that Smart and Final carries the #10 can of pumpkin this time of year – Holy Great Pumpkin, Charlie Brown!  That's enough for the whole neighborhood.  My friend, Jenna, said that you can measure it into Ziploc freezer bags (measure the amounts you would normally use in a recipe), mark the bags and freeze for later.  I can't quote you the price, but it is supposed to be much cheaper that way, and I'm all over that!  Just don't tell my husband I'm going to Smart and Final!
Another great pumpkin shortcut is the Krusteaz Pumpkin Spice Bread boxed mix.  They have a big box at Costco right now.  I had some left from last year, so I decided to bake it up before I bought any more.  I followed the recipe on the back…or side…for the Pumpkin Swirl Cake.  It was so good that I decided that I should buy extra boxes this year.  But I didn't look on the box for that particular recipe and this year they changed it to something different (probably equally as delicious) but not the same.  Fortunately, I went to their website and found the recipe there…yeah!
Here's to that wonderful, large, orange squash that can delight us in so many ways!